The Power of Patterns – Incorporating Bold Prints Into Your Home Design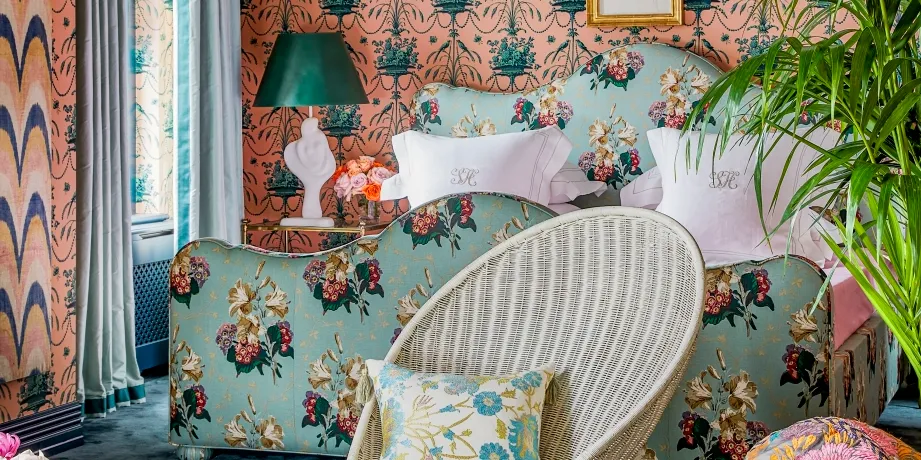 Bold prints and colors can make a striking statement in any space, yet incorporating bold patterns into home design may seem intimidating at first. Here is how to take on bold color without going overboard:
Susanna Salk's bestselling interior design book The Power of Patterns provides you with both inspirational ideas and practical techniques for adding patterns into your decor. Ranging from stripes and floral patterns, ikat, chinoiserie, she offers guidance that opens up endless creative opportunities.
Accent Walls
Wallpaper prints add character and vibrancy to a space almost instantly, offering one of the easiest ways to express oneself within an interior space.
Accent walls have become an increasingly popular trend and provide multiple benefits. Whether it be adding flair to a bedroom without extensive paint jobs, or seamlessly incorporating shiplap into a living room without remodeling its layout completely, accent walls offer great solutions.
This design trick can work wonders in any room, from children's nautical-themed bedrooms to rustic dining nooks. Just be sure that the color or material of your accent wall matches with the rest of your decor!
Wall Art
Wall art can be an easy and cost-effective way to bring patterns into your home decor. Search for boldly colored framed prints or subtler options such as floral wall tapestries.
PROS: Wall patterns can make a statement without breaking the bank; however, consistency is key when using this type of decor.
Example: Choose a striped-patterned wallpaper as the feature wall in your living room and go with solid color paint on the remaining spaces for maximum flexibility when it comes to changing up your style. No more painting your walls in order to change up the decor!
Fabric
Used properly, bold colors and prints can add depth, dimension, and personality to a space – however it's easy to overdo it and create too much clutter in a design scheme.
One of the easiest and most cost-effective ways to incorporate bold prints into your home is with fabric. Patterned curtains, throw pillows, blankets and even rugs are an easy way to add texture and character. Just ensure your furniture remains neutral so as not to compete with its pattern – this creates an elegant and well-designed space! For even greater impact add something wild like a patterned sofa or dining table!
Throw Pillows
Throw pillows add aesthetic value and function as practical supports for back, neck, and head comfort. In addition, throw pillows add color accents throughout a room by matching area rugs, draperies or walls.
Color is of course key when selecting pillows, but texture should also be considered when pairing a plush velvet sofa with soft, tactile throw pillows that complement it.
Refresh the look of any room quickly and affordably by switching out its pillow cover. Pillow covers come in various colors, patterns and shapes that suit any interior decor style imaginable.
Animal Prints
Animal prints can add a creative and distinctive edge to any look, be it as an accent piece such as a snakeskin purse or pair of leopard print boots – there are numerous ways to style this trend!
Animal prints remain timeless fashion statements; they're always trendy without being overdone.
When selecting animal print fabric for your home, it's essential to choose a print that reflects both your personal taste and lifestyle. Consider including patterns which represent personal interests or travel destinations – for instance if you love beachy themes opt for tropical prints with monkeys and palm trees as examples of prints which reflect them.
Kitchen Backsplash
Backsplashes are highly sought-after room accents because they combine practicality with aesthetic appeal. Kitchens often become disorganized due to oil, grease, food particles and liquid spillage from cooking activities – these splashes may stain walls which otherwise cannot be protected; with a backsplash you can protect those walls while adding your own design twist!
While there are various ways you can incorporate bold prints into your home decor, remember that decorating should reflect you and your personal taste. Use these tips to craft an interior that's uniquely you! Don't be intimidated by something different or bold! Just ensure the pattern does not overwhelm the space!