How to Choose the Right Cookware for Your Kitchen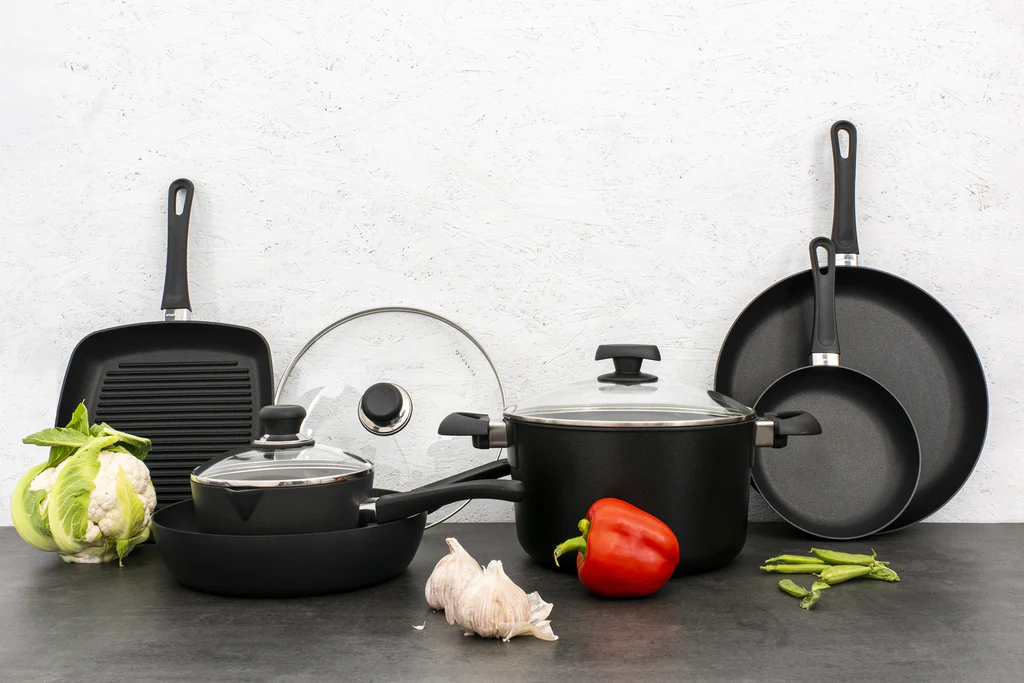 A good cookware set will include skillets for high-medium heat cooking, a saute pan for one-pot meals and a large saucepan for making pasta, risotto or anything that needs to be simmered. Look for sets that come with lids, as well (some manufacturers count the lids as an extra piece in a set).
Consider your cooking style and the types of dishes you often make to choose the right material for your pots and pans. We'll review the benefits of different cookware materials and recommend specific sets and pieces.
Stainless Steel
Stainless steel is an extremely versatile, durable and attractive material. Engineers use alloys to create different types of stainless steel with unique characteristics and applications, including cooking utensils and kitchen appliances.
Depending on the alloy used, stainless can be produced with different levels of corrosion resistance and hardness. A specialized technique called "passivation" involves adding nitrogen and other elements to the molten steel, which promotes formation of an oxide film that protects the metal from corrosion and improves its durability and hardness.
When selecting stainless steel cookware, look for pieces that are heavy enough to feel solid in your hand and feature a riveted handle. Ideally, shop in person so you can hold the pot or pan and test how the handles stay cool to the touch during use. Also, be sure to check for a glass lid that allows you to monitor the cooking process without lifting the handle, which could release steam and cause your food to overcook.
Nonstick
Whether you're outfitting your first kitchen or looking to upgrade an aging set of nonstick pans, making a smart choice is key. Nonstick cookware is versatile and convenient but it also has its limitations.
The most important factors when shopping for nonstick cookware are design, workhorse construction and durability, and the number of layers of coating. The metal base is just as important, since it will dictate even heating and control.
Keep in mind that no nonstick cookware lasts forever, though high-quality sets with multiple layers of coating can have a long lifespan. You'll get the most out of your nonstick cookware if you use it with plastic, silicone or wood utensils and avoid using metal scrapers or abrasive cleansers. Also be careful not to overheat a nonstick pan or you risk damaging the coating. This is why most sets come with lids. When you do need to purchase a replacement, it's a good idea to opt for hard-anodized aluminum for longevity.
Cast Iron
Whether you're buying your first set or replacing an old one, a quality cookware set will pay off for decades. Getting a feel for the different options out there will help you pick what's best for your lifestyle and kitchen.
Stainless steel is ideal for scrambled eggs and delicate foods, while aluminum pans are perfect for frying or baking. If you sear meat often, consider a cast iron skillet for even browning. If you don't want to deal with the seasoning process of unfinished cast iron, enameled cast iron is an excellent alternative.
If you're deciding between boxed sets, look for one that contains enough pieces for your needs. Adding on a few extra items like a stockpot or oven-safe lids will ensure you can create full meals from scratch. Also, consider how many utensils you'll need as that may influence how much storage space you need. For example, a six-piece set may not fit your kitchen if you only need a handful of pans and pots.
Aluminum
While new smart appliances and kitchen gadgets may get all the attention, your pans are still the heart of your cooking. While some cookware types are better for certain recipes and techniques, a high-quality set can be the perfect base for any kitchen.
Aluminum is the core material for many stainless steel pans and a component of nonstick cookware, as it's highly conductive. However, it's also reactive to acidic foods and prone to scratching. Luckily, you can avoid these issues with coated or hard-anodized aluminum cookware.
You'll also see this material used in three- or five-ply construction, referring to the layers fused together to create the pot or pan. This is common for clad stainless steel and often includes other materials like copper or aluminum to improve conductivity. This is ideal for anyone who needs a versatile, durable pan that can reach high heats and last a long time.